The first day of preschool is right around the corner for many of our little ones. It may turn out to be a little stressful for some kiddos and even for some moms too. Those of us who have had prior experience with sending a child off to preschool may have already established some kind of tradition to make the first day memorable.  If it's your first year sending your child off to school, why not start your own tradition for the big day?    
Many of us like buying a new outfit for the big day and snapping photos of your child as they leave for their first day of school. It's fun to compare pictures from year to year to see how they've grown and changed through the school year.    
Other moms and dads like to make a special breakfast or tuck little notes in their child's lunch box to make them feel super-loved at lunchtime.  And yet others like to take a special trip for ice cream in the afternoon at the end of their child's special first day. There is no right or wrong answer. Regardless of what type of activity you decide to do with your child, all is great! Pick one or a few, but make it something you do from year to year. Traditions like these are often fun for the kids and parents alike.   
Need some ideas?  1. How about a first day of school chalkboard sign depicting your child's height, weight, likes, teacher's name and what they would like to be when they grow up?  You can snap lots of photos of them holding the sign just before they go off on their first day and the chalkboard sign can be reused from year to year. Here's the link to a chalkboard sign… 
https://creativecraftrooms.patternbyetsy.com/listing/522232024/first-day-of-school-chalkboard-first-day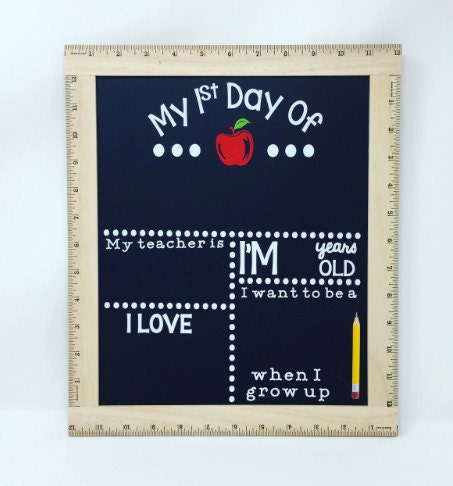 2. How about writing an inspiring message or draw a picture in the driveway with chalk? Children will feel so much more excited if they find encouraging messages or pictures written in chalk in the driveway as they leave for school. You could do it as a surprise for your children, or take your kids out with you to join in the fun leaving messages for their schoolmates while waiting for the bus or walking to school.   
3. Conduct a personal interview. Ask your child some questions like "what is their favorite song, food, activity and what they want to be when they grow up". Write down their answers noting the date on a piece of paper and place the note in a personalized keepsake box. Ask the same questions every year. Wouldn't it be fun to compare the notes from year to year? Here's a link to a memory box… 
https://creativecraftrooms.patternbyetsy.com/listing/526419550/school-memory-keepsake-box-personalized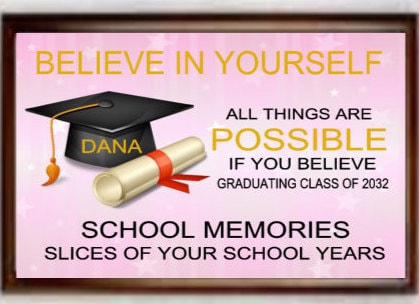 4. Entering a new grade is a big deal for a child. Decorate your child's door with streamers, balloons or a personalized sign while he's sleeping. When he wakes up, your child will feel very special that you made their first day so grand.    
5. If your child is nervous about being away from you for the day, you can ease her jitters by reminding her you're always thinking about her. Make a set of bracelets for you and your child to wear or customize a set for the entire family to help her get through the first day.   
6. Write a little love note or matching "tattoo" on your and your child's hand. This little "I love you" note will help give them some encouragement throughout the day.   
There are so many fun ways to make the first day of school special for children. Think about what will be your favorite first day of school tradition.