I have been slowly preparing for my daughter's surprise baby sprinkle. This is her second child so I thought to keep this shower to a smaller scale then the first one almost three years ago.  My daughter and son-in-law are having a boy this time around and the nursery room theme is from the Disney movie CARS.This has not been an easy preparation for me.  With Christmas and New Year's and my Etsy shop blowing up with personalized crayon orders since Thanksgiving, I have put this baby sprinkle on the back burner - to say the least !  You, too, can purchase these personalized crayons in my shop at
https://www.etsy.com/listing/468037922/name-crayon-gift-set-recycled-crayon-set?ref=shop_home_active_6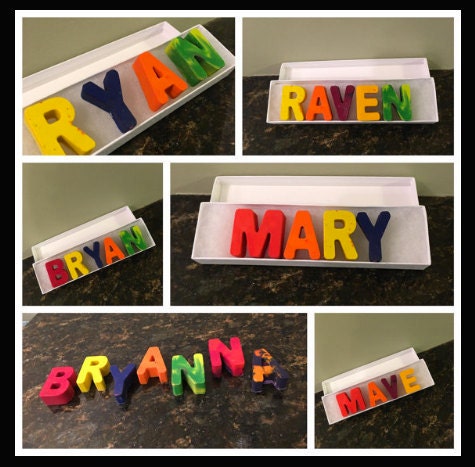 I opted out of making the invitations myself and ordered them through another Etsy shop VIGOVSTUDIO.  They were great.  I simply contacted them, picked one of their CARS birthday invitations and asked them if they would change the wording for me to fit my needs.  Within a few hours, I not only had the invitation emailed to me but I also ordered a matching baby BINGO card too.  I then uploaded it to my local CVS and DONE were the invitations!  LOVED IT!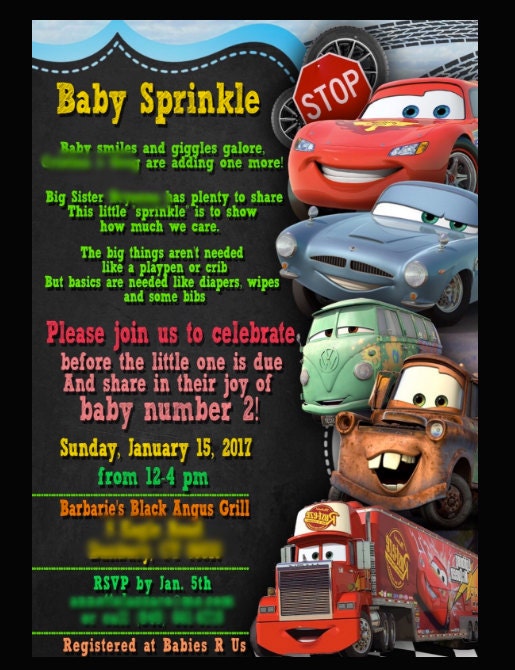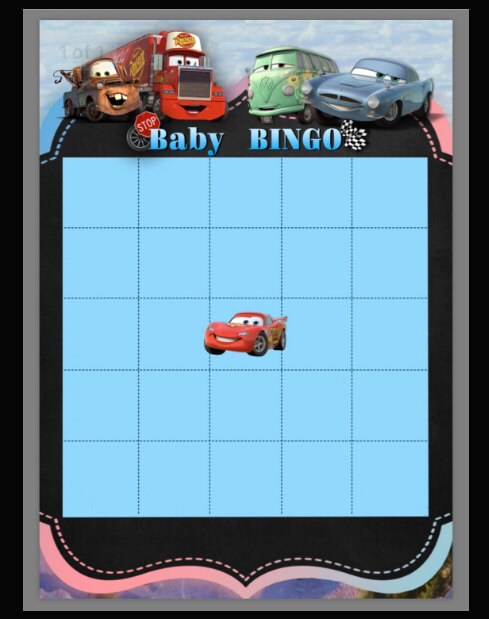 Now, what to do about favors?  Back to my Etsy peeps!  Handmade Blue Sugar Soap in a cornflower blue, was my choice.  I ordered them from one of my favorite soap people FriendlyBodyProduct.  The soaps arrived in a flash and were a nice size and simply perfect!  I then created a personalized sleeve for the soaps and tossed them in a light blue mesh bag.  AHHH... you can smell the soaps a mile away! LOVELY!!  DONE!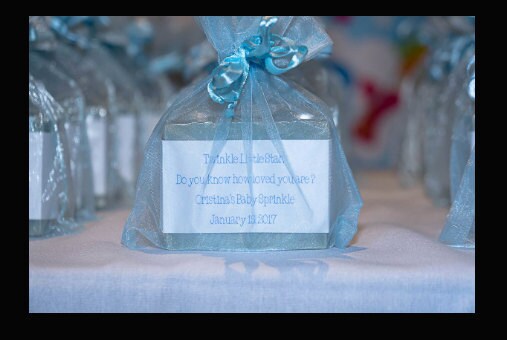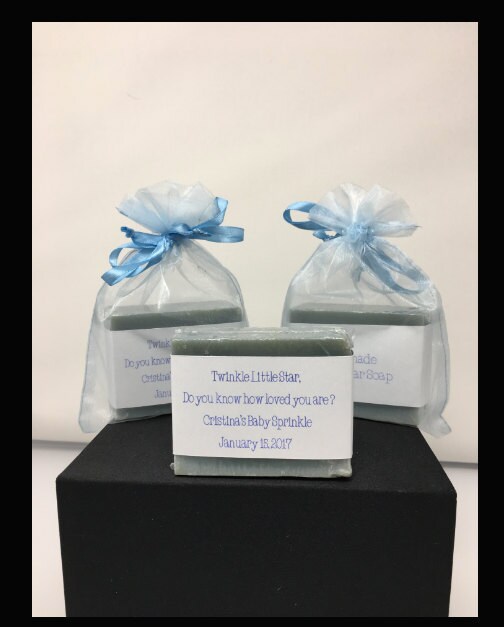 Now, I wanted some gifts for the winners of the bingo game.  I figured, a gift for Straight bingo, four corners and full card but also needed a few extra for multiple winners - so five gifts in all.  Off I went to buy some wine glasses and decorate them.  What to do?  Ah! yes, glitter the stems blue and add some truffles in the glass.  Yes!  I glittered the stems a sparkly blue, added white chocolate truffles and wrapped them in cellophane.  Whallah!  DONE!  You can find these glasses in my shop in a variety of colors and they can be personalized too. 
https://www.etsy.com/listing/258996084/glittered-stem-wine-glass-glitter-wine?ref=shop_home_active_2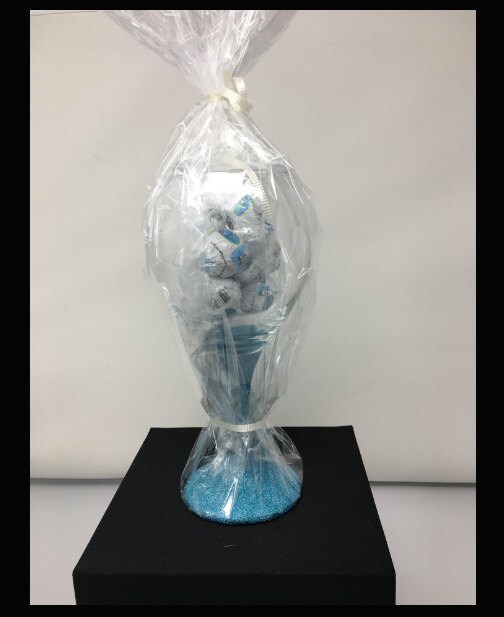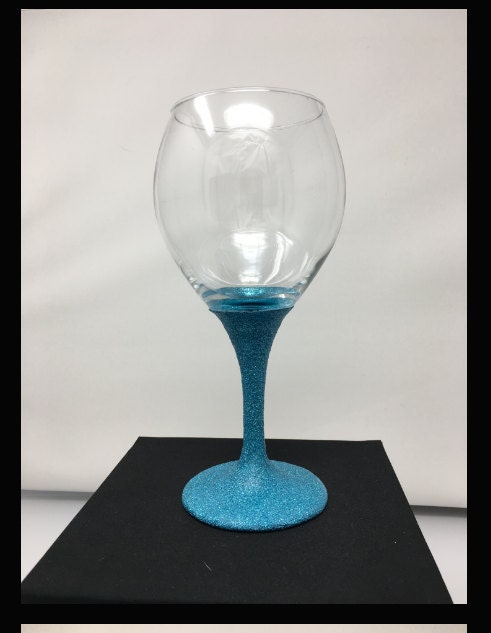 Another quick game... What's on your phone?  It was a free download on the net.  I printed it and the winners with the most points get a prize.  I prepared two small gifts for this one.  I bought sanitizers and I created a little box for them with my cutting machine and hot glued the bottle's base to the inside of the box so that is sat inside the box. I then added a CARS image that I bought from another Etsy vendor and wrapped the whole thing in a cellophane bag with ribbon.  CUTE !  DONE!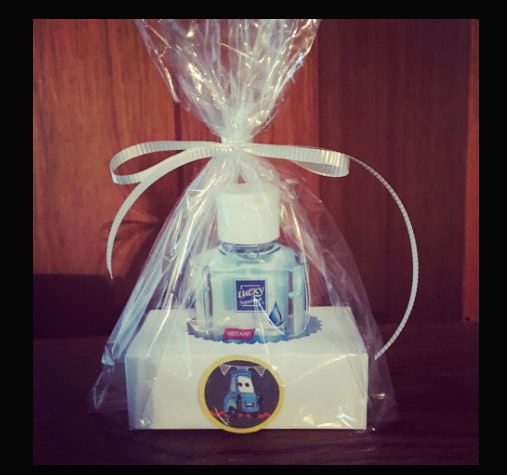 Now for some simple decorations... I bought a race car banner and draped that at the front of the main table and laid a checker board table runner on the table where the diaper cakes were being displayed.  I then cut some clip art, glued them to skewers and stuck them in styrofoam and added them to party cups. I displayed these at the main table with the diaper cakes and scattered some Pixar diecast cars around the table as well along with a group of balloons at every table. You can find these double sided party cups for sale in my shop  at https://www.etsy.com/listing/505934393/pixar-cars-birthday-party-centerpiece?ref=shop_home_active_18 along with the "she popped" popcorn boxes that I gave away as part of the party favors. https://www.etsy.com/listing/498926910/popcorn-favor-box-birthday-favor-popcorn?ref=shop_home_active_1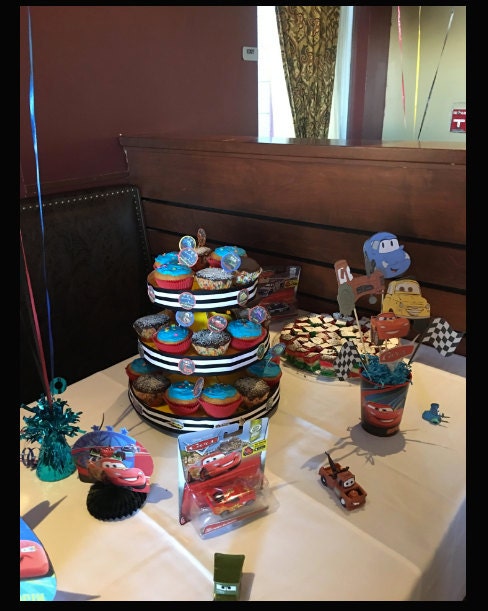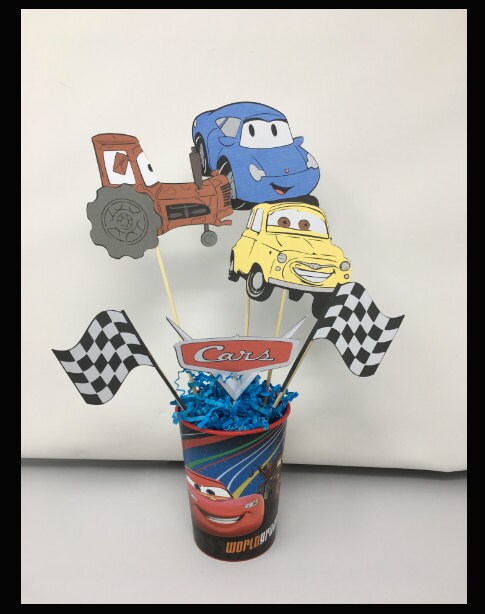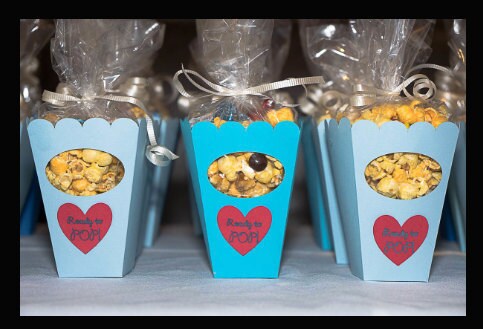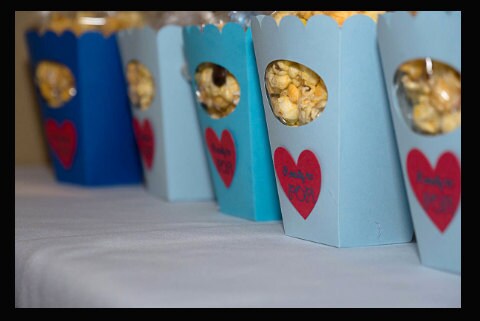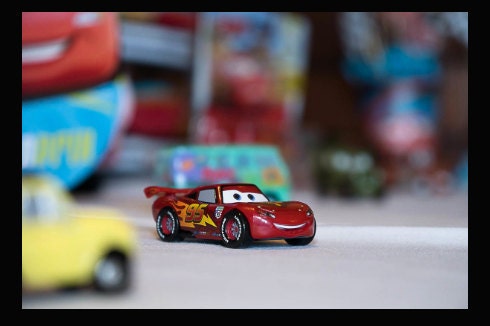 Well, now I have decided to make a diaper cake centerpiece. Of course, a CARS themed one.  So I downloaded some clip art for the CARS theme and made a simple three tier cake using diapers and ribbon.  CUTE and DONE!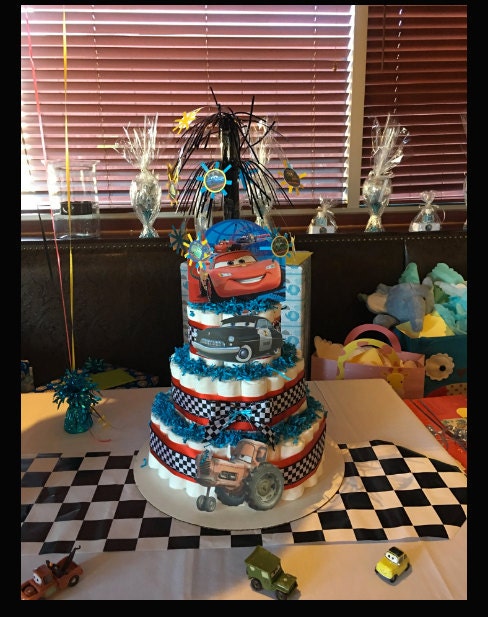 I have one more diaper cake in mind but this one is more complicated.  I am going to make a diaper cake race car !  Hmmm...  I'll let you know how that one goes... Update... Here is the diaper cake race car.  It came out just the way I had in mind. Thank God my husband was around to help me with the form.  I could not have done it without him!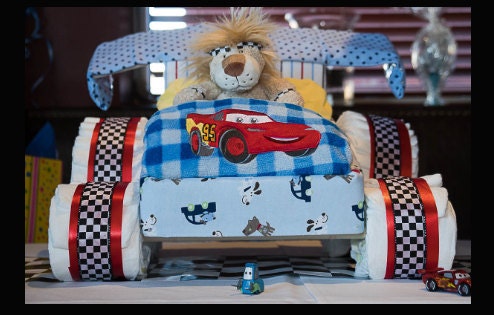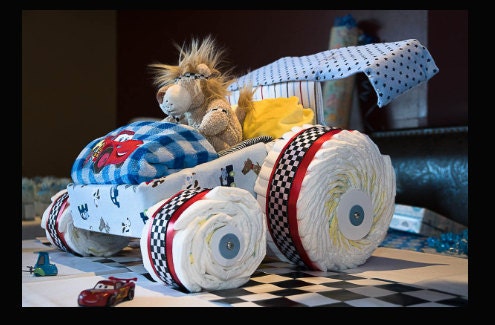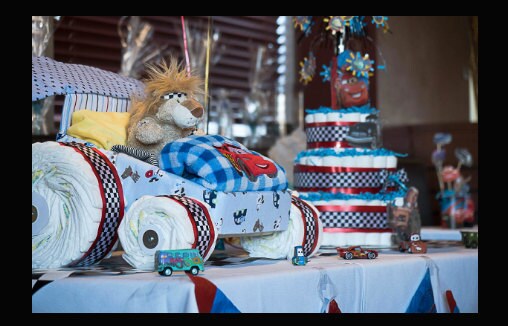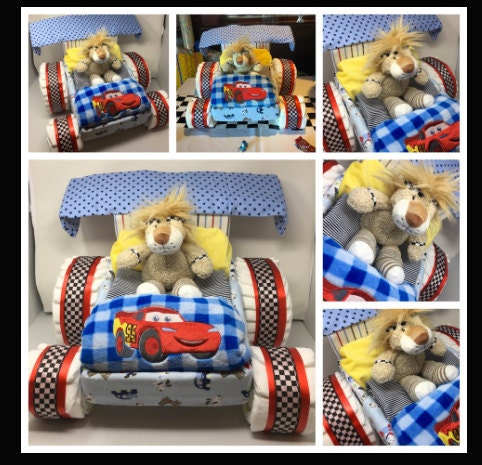 The cake was purchased from a local bakery.  I emailed them a picture of a cake I saw on Pinterest and they were able to replicate it with the changes I wanted.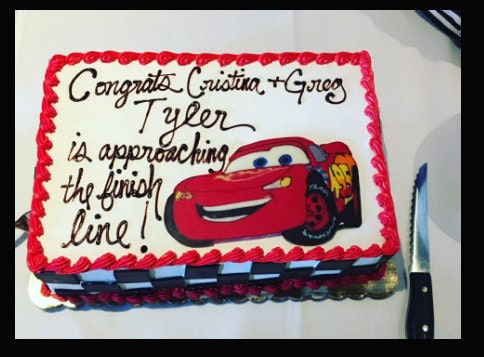 When everything was set up, the room looked great!  It was just what I wanted for a unique baby sprinkle and I knew my daughter would also love the theme I chose.  It turned out to be a great event.​​